Blasts rock Lviv in the west as Mariupol fights 'to the end'
Blasts rock Lviv in western Ukraine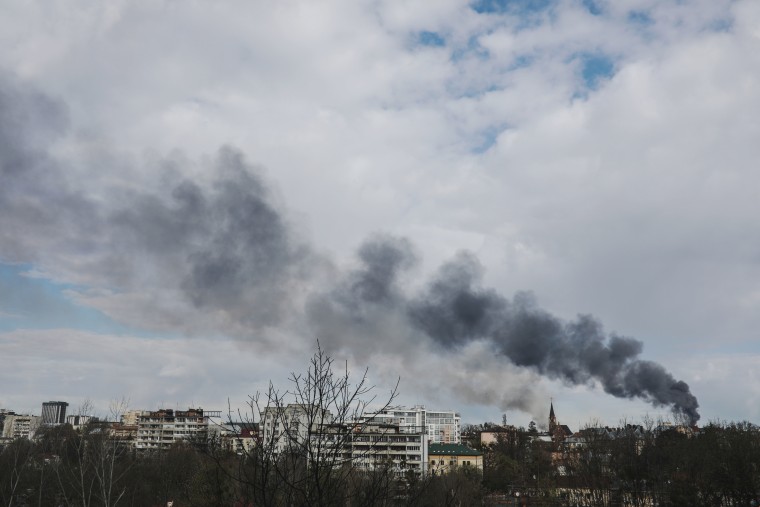 LVIV, Ukraine — The regional military administration and mayor's office said that several missiles had struck this western city early Monday.
Lviv Mayor Andriy Sadovy said Russia had targeted the city with five missile strikes. Smoke could be seen rising above the city after the blasts around 8:30 a.m. local time.
The exact targets remain unclear, but the explosions rocked what has been a safe haven in the country throughout Russia's war.
Lviv has become a city of refuge for those fleeing the fighting in central and east Ukraine, with more displaced Ukrainians continuing to arrive each day by train and by car.
The city also serves as a central hub for military and humanitarian supplies, as much of the equipment and goods that are sent to Ukraine from the West cross the Polish border about 40 miles away.
Deadly strikes hit central region of Dnipropetrovsk, local officials say
At least two people were killed in a Russian missile strike on the central Ukrainian region of Dnipropetrovsk, the local governor has said.
The deadly blast hit an infrastructure facility, while another destroyed some railway infrastructure but caused no injuries, Gov. Valentyn Reznichenko said in a post on Telegram.
Ukraine completes E.U. membership questionnaire
Ukraine has completed a questionnaire that will form a starting point for the European Union to decide on membership, said Ihor Zhovkva, the deputy head of President Volodymyr Zelenskyy's office.
European Commission President Ursula von der Leyen handed the questionnaire to Zelenskyy during her visit to Kyiv earlier this month, pledging a speedier start to Ukraine's bid to become a member of the E.U. following Russia's invasion.
"Today, I can say that the document has been completed by the Ukrainian side," Zhovkva told the Ukrainian public broadcaster Sunday evening.
The European Commission will need to issue a recommendation on Ukraine's compliance with the necessary membership criteria, he added.
Zhovkva added that Ukraine expects to attain the status of a candidate country for E.U. accession in June during a scheduled meeting of the European Council.
"Next, we will need to start accession talks. And once we hold those talks, we can already talk about Ukraine's full membership in the E.U.," Zhovkva said
At least 6 killed in strikes on Lviv, local officials say
At least six people were killed, including a child, and a further 11 injured in the missile strikes on the western Ukrainian city of Lviv, local officials have said.
Four strikes hit the city early Monday, regional Gov. Maksym Kozytskiy said, with three targeting military infrastructure and one hitting a car repair facility.
The sites were all severely damaged, Kozytskiy said, with emergency services working to extinguish ongoing fires.
The city's mayor said 11 people were injured in addition to the 6 reported dead so far.
Shockwaves shattered the windows of a hotel housing evacuated Ukrainians, according to Lviv Mayor Andriy Sadovyi.